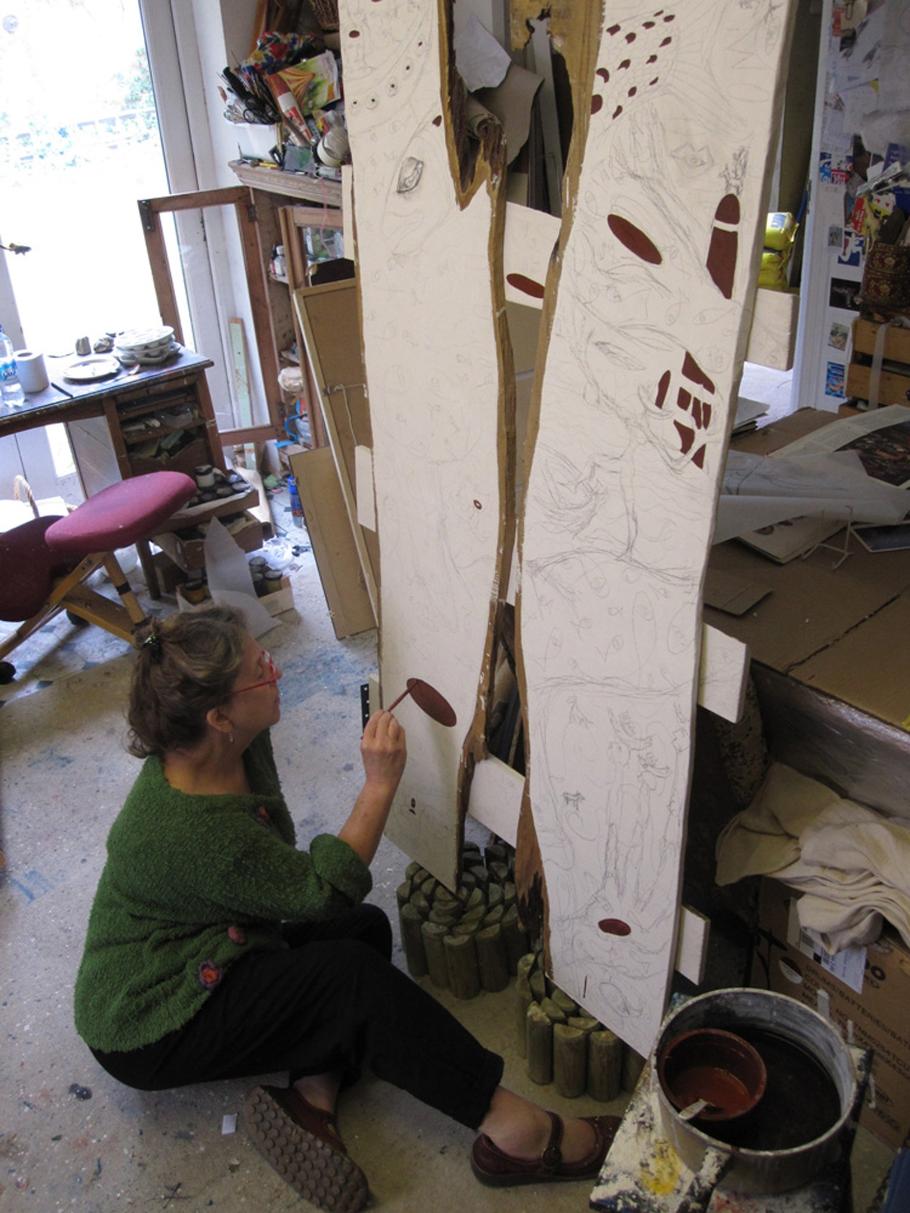 Maz Jackson has spent a lifetime drawing and painting in rural Norfolk UK. The landscape, history and its people enrich her imagery which can be interpreted in many ways and relate to many cultures across the globe. Winner of national and international awards, her work continues to be exhibited and collected by galleries, museums and private collections across the UK, Europe, Japan, China, USA and Mexico. Her work has been exhibited at Florence, Palermo and Venice Biennale (New York Arts Pavilion), where she represented the UK. She has also exhibited at Le Grande Palais, Paris (Salon des Independants), Prince Ranier's Auditorium, Monaco, Royal Academy, Mall Galleries, Bankside Gallery, London and many more.
Egg tempera has had less restoration than any other paint medium in history. Maz creates her work using fifteenth century methods recorded by Cennino de Andrea Cennini. Imagery is worked up in tempera comprised of mineral pigments, such as lapis lazuli, mixed with egg yolk and distilled water. The tempera is laid down on gessoed, linen wrapped oak panels between gilded shapes of 24 carat gold leaf. Much time passes between each process, many drawings of thoughts and ideas form stimuli for the paintings, some become series of prints, scrolls, artists books and sculptures.
"Ideas are sourced from anything that excites: people, love, communication, touch, tension, laughter, flight, landscape, the spaces between and things sacred".
"I have a deep interest in colour, line, mark-making and edge, which all come into play when working in paint, drawing and print. I wish my work to have a timeless quality which the on-looker can dip into and be instilled with ever-changing thoughts, questions and smiles."
Professor Giampoala Trotta of Florence "Maz Jackson is an imaginative and allegorical post-modern medievalist." A quote from his paper based on her solo show at Basilica di San Lorenzo, Florence.
Jeff Borgeau Director of Museum of New Art Detroit " Opening the crate containing Maz's art was like opening a casket revealing a precious jewel"
Pasqaule Celona President of Florence Biennale on seeing her work when visiting Le Salon des Independants, Grand Palais Paris. " Maz Jackson's work is so beautiful, it is like the tree of life"
(Maz is a Florence Biennale Artist representing the
UK).


Photos copyright: Ryan Bleyswyk, Joshua Jackson, Maz Jackson